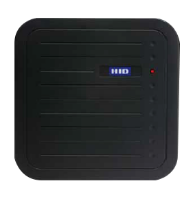 MaxiProx Reader HID Card 5375
Application
HID's MaxiProx® Reader is ideal for installations incorporating parking control and long read range applications. The MaxiProx reader packages all the electronics in one rugged, attractive and easy-to-install housing.
Features
Long read range distance (up to 6' with ProxPass®).
Wiegand, Clock-and-Data and selectable serial outputs available.
"Parking hold" feature allows connection to a loop detector to ensure accurate detection of vehicles in parking lanes.
Compatible with all HID cards and tags with formats up to 85 bits.
Multicolor LED with internal or host control of the LED and beeper.
Two MaxiProx units can operate one meter apart for "HI-LO" (truck and car) installations.
Reader supervision signal for CASI-RUSCO® panels.
Send Enquiry